Best Pizza Restaurants in Branson:
Right up there with Mexican and BBQ, pizza is one of the most beloved American dishes out there with approximately 3 billion pizzas sold a year. With great crust options, mountains of fun toppings and delicious cheese and sauce selections, its no wonder pizza is the go-to for dine-in, delivery and take out options.
We've compiled a short and sweet list of all of the best pizza restaurants in the Branson, MO area. Remember to check out all of the dining coupons you can have easy access to when you download the Branson Saver App. Check out our page here: https://bransonsaver.com/branson-dining-coupons/.
Without further ado, here are The Top 10 Best Pizza Restaurants in Branson, MO:
Don't let appearances deceive you! This quaint and cozy red structure is home to is a treasure trove of delicious and rather tasty New York Style pizzas! You should definitely try out Rocco's famous garlic knots and the specialty pizza styles that locals and visitors alike keep coming back for.
Location: 2722 State Hwy 248, Branson, MO 65616

A relatively new pizza joint now gracing Branson with their presence is the rather popular and sought after chain restaurant, Mellow Mushroom. Now conveniently placed in the heart of the Branson Landing shopping area, the Mellow Mushroom presents a funky, artsy and vividly colorful establishment that pairs itself perfectly with stone-bake pizzas, beer & wine. Mellow Mushroom even serves Vegan and Vegetarian items so everybody eats happy!
Location: 333 Branson Landing Blvd, Branson, MO 65616

Experience great lunch and dinner items from the experts at Mr. G's Chicago Pizza & Pub, yet another wonderful pizza restaurant in Branson, Mo! With a family friendly atmosphere and a great location in Branson's Historic Downtown, Mr. G's has a lot going for guests who come hungry and in need of deep-dish. Besides serving mouthwatering Chicago style pizza, Mr. G's also offers fun appetizers to start you off including classic Wisconsin cheese curds, garlic Parmesan fries and spinach artichoke deep dip. Getting hungry yet?
Location: 202 1/2 N Commercial St, Branson, MO 65616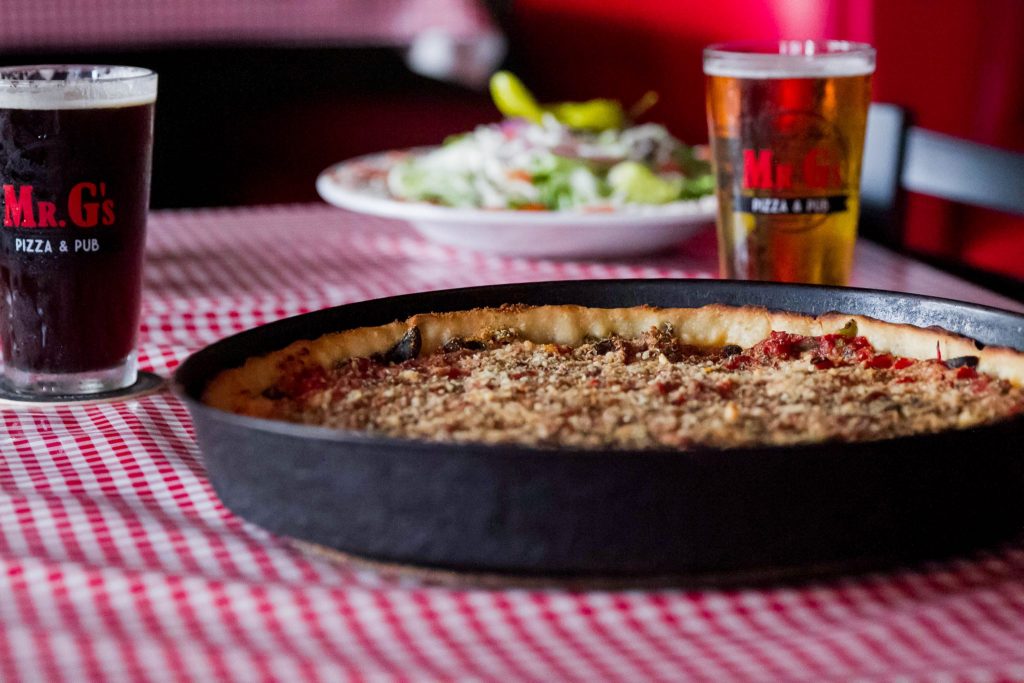 Photo Credit: Mr. G's Chicago Pizza Facebook Page
Extinguish your every craving for Italian yummies when you visit Hook & Ladder in downtown Hollister, Mo. Look over a unique menu with several fun items like taco pizza and hand-tossed pies. On top of that, Hook & Ladder also makes their crusts and sauces homemade and fresh every morning! Wrap up all those great qualities with a fun firehouse theme décor and equally on fire staff and menu and you have yet another outstanding pizza restaurant in Branson, MO.
Location: 26 Downing St, Hollister, MO 65672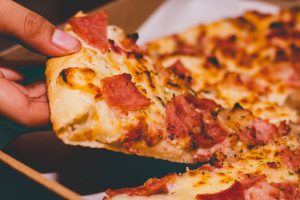 Need to feed the whole family or a large traveling troupe in one setting? Try Ozark Mountain Pizza, a pizza restaurant in Branson, MO that has its share of delectable pizzas, Italian pastas, sandwiches and salads all put together daily with fresh ingredients. Offers a welcoming family atmosphere and consistently keeps customers happy and satisfied with every hot and fresh serving. Currently open for dine-in and carry out. Make sure to check out Ozark Mountain Pizza's site for specials.
Access coupon for Ozark Mountain Pizza on the Branson Saver App: https://bransonsaver.com/branson-ozark-mountain-pizza-coupons/
Location: W, 9273 State Hwy 76, Reeds Spring, MO 65737

Get your fill of gourmet pizzas, traditional breadsticks, wings, subs, calzones and delectable dessert pizzas that include chocolate chip, cinnamon, and apple selections at Pizza World in Branson, MO.
Access coupon for Pizza World when you download the Branson Saver App: https://bransonsaver.com/branson-pizza-world-coupons/
Location: 3405 W 76 Country Blvd, Branson, MO 656167.Godfather's Pizza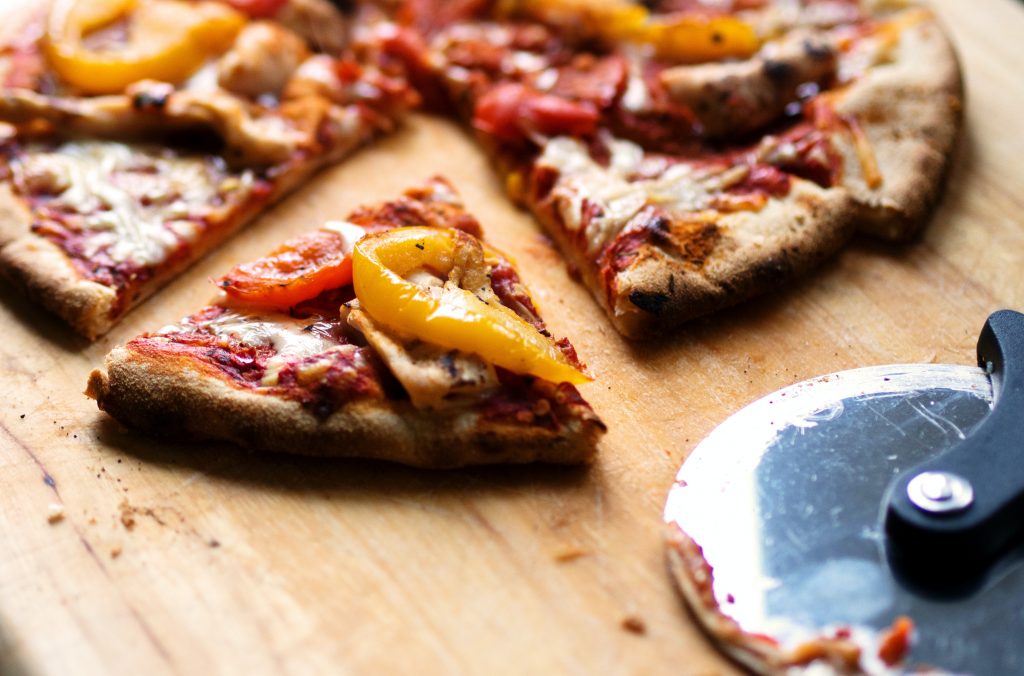 Located inside Grand Country Resort this nice family-style restaurant is an all-you-can-eat kind of pizza joint with good prices and a full salad bar. Eat the portions you want with fast and friendly service you're sure to get if you stop by for a bite. Papa Grands is additionally located close to other lodging and attractions in Branson for your convenience.
Get deals on the buffet at Papa Grands Pizza when you download the Branson Saver App: https://bransonsaver.com/branson-papa-grands-pizza-coupons/
Location: 1945 W 76 Country Blvd, Branson, MO 65616

Located in the beautiful lake town of Kimberling City, Parmesans Pizzeria is one of those hidden gem pizza restaurants that deserve a visit. Order Parmesans Pizzeria homemade garlic bread or toasted ravioli if you'd like to really treat yourself out and pair with beer or wine. Chat it up with the friendly owner and/or staff and enjoy the beautiful view of the Ozark mountains and lake. Did we forget to mention that Parmesans also makes their own bread, pizza sauce and their house and Caesar salad dressings? You're definitely going to get some quality food here!
Location: 14608 MO-13, Kimberling City, MO 65686
Want to get a fast, on-the go pizza of your own creation? Think Subway but with a pizza. Guests get to pick their own crust, sauce and choose from a large selection of cheese and toppings. Baked hot and fresh to amplify the taste, Pie Five Pizza pleases their customers with every serving. Custom crafted 28 fresh toppings, 6 sauces, 4 handmade crusts, Pie Five offers good quality and good taste for their customers.
Location: 482 Branson Landing Blvd ste 103, Branson, MO 65616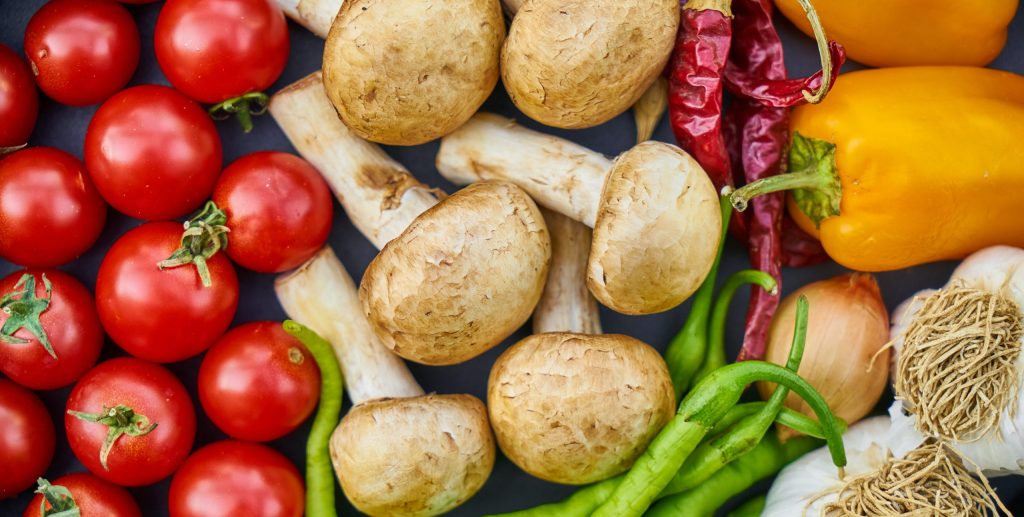 What did you think of our list for the best pizza restaurants in Branson, MO? What are some of your favorite local and chain restaurants around?