Looking for the best Branson, Missouri mini golf courses around? Get ready to putt putt until your heart is content when you venture through a land before time at Dinosaur Canyon, discover some lost pirates' treasure at Pirate's Cove, or roam through a  Hollywood landscapeat Shoot for the Stars. These are but a sample of some of the best Branson, Missouri mini golf courses in the area you'll have to visit!
Save on hundreds of Branson attractions like mini golf when you download the Branson Saver App. Go through our list here https://bransonsaver.com/branson-attraction-coupons-2/  to see how you can start saving today!
Here are the Best 10 Branson, Missouri Mini Golf Courses Around!
Ahoy ye Mateys! Come visit Branson's ultimate Pirate's Cove mini golf course featuring a full-scale pirate ship and beautiful turquoise pools and waterfalls! Go through an 18-hole course while surrounded by elaborate themes and décor that will make you feel like you are traversing around with the pirates of the 18th century. Observe props like treasure chests, parrots, mermaids and ships all at one course! Truly an adventurous and fun get together for groups and families alike! Just watch out for those skallywags!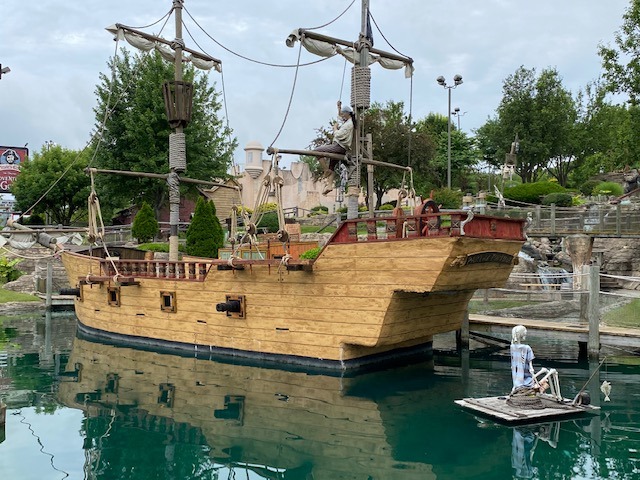 Photo Credit:https://scontent-ort2-2.xx.fbcdn.net/v/t1.0-9/104981580_3039355962768307_6682500194071401606_n.jpg?_nc_cat=107&_nc_sid=dd9801&_nc_oc=AQmS333E-RVlE6nnJlbgi7elbUxz08mmBbeoeqYKnUAuoc2H-lkL8ilq-soqow-vK1o&_nc_ht=scontent-ort2-2.xx&oh=cb71df8e659
Explore some of Hollywood's most popular landmarks up-close including Capitol Records and Grauman's Chinese Theater at the Shoot For the Stars Mini-Golf Course. Feel the full VIP effect when you, your family, or a group walk by palm trees, parties and fun props at every turn! Enjoy a variety of perfect photo opportunities as you snap selfies and profile pics next to props like the life-size Oscar statuette or even pose for famed star photographer, Audrey Beibowitz! Move your way up through stardom at one of the more popular Branson, Mo mini golf courses! Located next to the Hollywood Wax Museum.
Photo Credit:https://www.flickr.com/photos/bransonmo/24876147377/in/photolist-oxnGQe-8yLSpB-DUdKWH-gmkxU8-zhyKQx-bWe4uv-ceAipS-bUTTeP-cfbtDW-gK3jMJ-ce4Qn7-fAckK3-bXV52W-2e5eYvt-9JqMD7-9JqMHb-9JnXPg-9JnYnz-9JqMWJ-cU7UEh
Set food in Branson's Bigfoot Fun Park and newest mini-golf adventure in Branson, Mo! Explore the big furry guy's backyard with a 270-foot tunnel cave with UV glow in the dark paint, entertaining props like jeeps and waterfalls and a frozen tundra landscape. Watch out for Bigfoot's very large footprints as you play each hole and see if you can hunt him down.
This Branson, Mo golf course will bring you up, down, through and over props and obstacles like no other. Definitely a must see!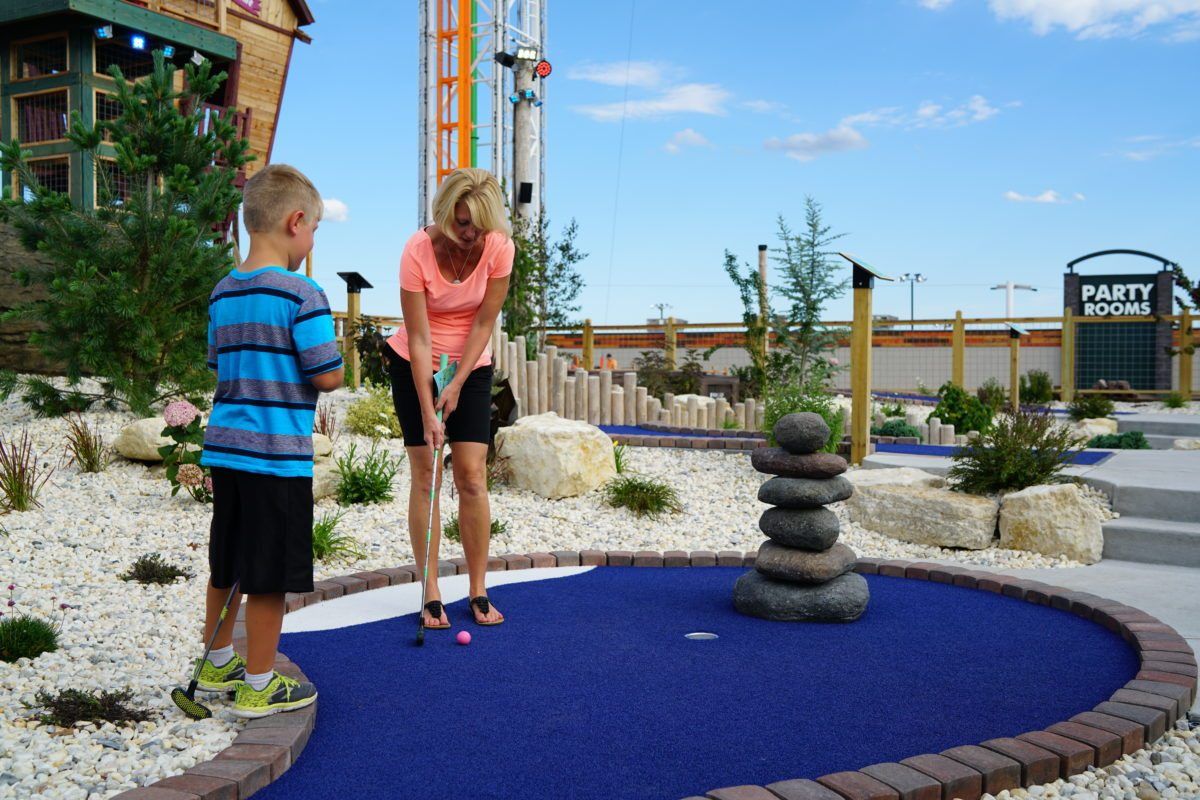 Photo Credit:https://i.pinimg.com/originals/5e/e5/76/5ee5762c1d1c9f09e5f8086eeb6b6852.jpg
Get your beach and island vibes moving and grooving when you experience Branson's Coral Reef Mini Golf located inside Wildwood's Mini Golf.
Unlike the other Branson, Mo mini golf courses, Corral Reef is great during the heat of the summer, during the wet rain season, or during the winter. This indoor golf course offers a cozy, island themed décor with a challenging yet enjoyable 18-hole game. Put the lime in the coconut and get ready to enjoy this fun, interactive golf course, fitting for every season!
Photo Credit:https://www.facebook.com/coralreefminigolf/?ref=py_c
If you like a bit of modernistic style with a dash of special effects and black light, this Black Light Mini-Golf is the course for you.
Move your way through the sights and sounds of computer-generated animations and old themed props based around life on the river. See riverboats, fishing, farms and some recognizable Branson Landmarks when you move through each section! To get the full effect of black light mini-golf, wear your brightest colors as you venture through this fun course part of Grand Country. Kids can golf for under $10!
Photo Credit:https://www.grandcountry.com/attractions
Grand Country Fun Spot has another indoor golf area that is centered around a cozy, rain forest theme with low light settings and cool water spots. Their 36-hole course is as entertaining as it is challenging and is sure to accommodate all ages.
Feel like an explorer in a wild and exciting landscape full of ancient ruins, a turquoise waterfall, an airplane and even a train ready to rumble and whistle its way over the golf course. The Lost Treasure course is an adventure waiting to happen!
Photo Credit:https://losttreasuregolf.com/mini-golf-photos/
Walk around streams and waterfalls, explore a large-scale volcano, and watch out for dinosaurs like the Velociraptors at every turn. Dinosaur Canyon takes you back to a fascinating time when these large creatures roamed the earth. Remain facinated and awed when you see Velociraptors, Brachiosauras, and the Tyrannesaurus Rex. Dinosaur Canyon is an exclusive golf course that is sure to appease all ages and visitors for their unique take on miniature golf!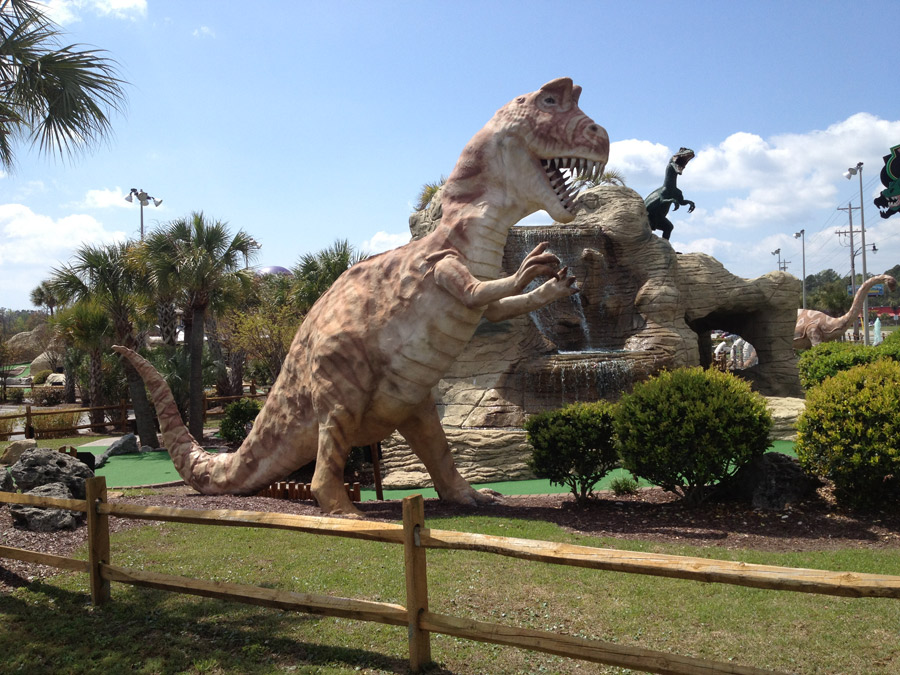 Photo Credit:https://losttreasuregolf.com/mini-golf-photos/
Venture around the relaxing settings of Brookside Miniature Golf. Enjoy the appropriate titled mini golf course with babbling brooks, waterfalls and fountains all placed and play on the banks of the babbling brooks. The grounds have been masterly landscaped to include waterfalls, fountains. Double your fun when you putt putt around two golf courses with family, groups, or couples!
Brookside Miniature Golf is conveniently located on Shepherd of the Hills Expressway which is conveniently located near several attractions including the Promise Land Zoo and Sight and Sound Theatre.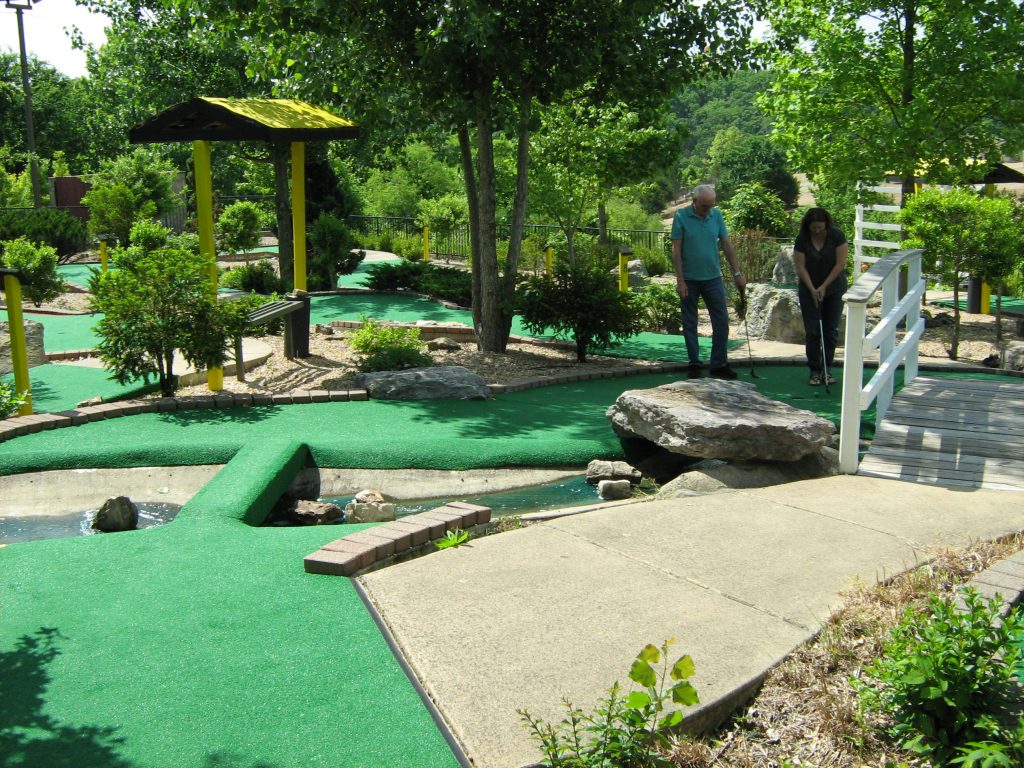 Photo Credit:https://brooksideminiaturegolf.com/index.php/guest-gallery/
Experience medieval times at the Top 10 Rated Champion Course, the Greatest Adventures Miniature Golf. Discover the "Smokin Dragon", a medieval castle, a waterfall cave, knights in shining armor and even a Sphinx at this 36 hole themed golf course. Play 1 or 2 games, or try their Eat& Play Combo Special where you can try Scooter's Grill's famous Reuben sandwiches and/or delicious"Dragon Wings"!
*Scooter's Grill is an onsite restaurant that serves tasty dishes and cold drinks.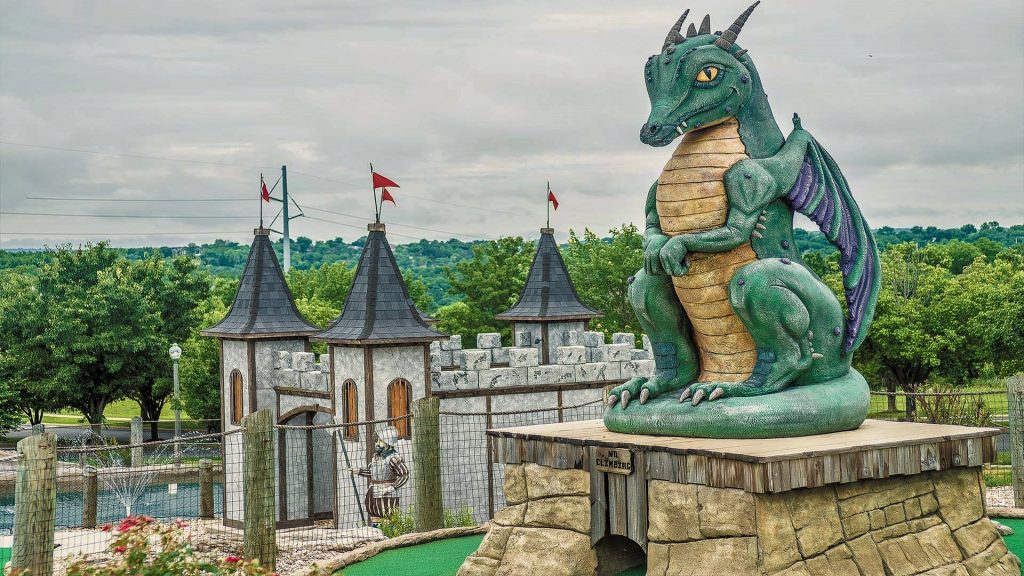 Photo Credit:https://www.minigolfinbranson.com/
Get exclusive discounts and prices at attractions like Branson, Missouri mini golf courses and hundreds of other Branson shows, attraction and dining when you download the Branson Saver App on any Smartphone.  See all of the ways you can start saving for your next Branson Vacation with the Branson Saver App!