Who says the fun has to stop when the sun sets when it's really only the beginning! Branson has it's share of fun things to do during the day and an equal, if not more, number of fun things to do during golden hour and beyond. This is our list of some things you can do in Branson at night!
Remember, you can always save money when you download the Branson Saver App on any Smartphone when looking for exclusive deals on Branson shows, dining, attractions and more! https://directory.bransonsaver.com/index.php?dir=czMjSNBWcxz7OW5E4IkZt&p=featured#
Now, time to take those sunglasses off and read our blog on all the Things To Do in Branson at Night!
Enjoy all the features of White Water under a starry night sky when you partake in White Water's exclusive summer event: Night Water. For a limited time, stay after hours and explore 13 acres worth of rides, slides and pools at your leisure! Try the KaPau Plumment or the 500,000-gallon Surf's Up Wave Pool to get your fill of water fun activities, just out of the sun. Beat the blazing heat of the summer and dive into the cool evening hours with a splash! Night Water will take place Fridays and Saturdays through August, 8 so mark your calendar!
Photo Credit:https://www.silverdollarcity.com/white-water/Special-Events/Night-Water
Feel the cool breeze of the wind as you glide on Branson's Mountain Coaster at night! Open until 10 PM, you can hop right on the coaster and cruise on through the wilderness like never before! Watch the spectacular and colorful light displays placed all along the entire course of the ride as the coaster as you move through trees at speeds well up to 30 mph. No matter the time of day or the season, the Mountain Coaster is ready to accommodate you, your family and/or your group!
Photo Credit:Branson Mountain Coaster & Flyaway Ziplines Facebook Page
Taking place for a limited time July 25-August 9, 2020 is the ultimate fan-favorite, summer fun event at Silver Dollar City: Moonlight Madness. Soak in over 12 hours of fun, fun, fun when Silver Dollar City keeps their park and their gates open late so guests can have double the fun on over 30 rides! Overlook the Branson hills at dusk just before you plummet downwards on exhilarating rides like Power Keg and Wildfire. Even try some of Silver Dollar City's newest rides including Time Traveler and Mystic River Falls under the night sky for a whole new experience. Reserve tickets while you can!
Photo Credit:https://www.silverdollarcity.com/-/media/Images/HFE/SDC_COM/SDC/Hero/Mobile/Festivals/Moonlight-Madness/2019-MM-Fireworks-Hero-Mobile-750pxX450px.jpg?h=450&la=en&w=750
Race at night at Branson's Xtreme Racing Center which is open Monday-Sunday from 9 AM to Midnight. Quench your thirst for speed when you tackle this fun and challenging outdoor track in go-karts that can get up to 40 mph!
Photo Credit:https://www.xtremeracingcenterbranson.com/our-xtreme-karts
Many outdoor and indoor mini-golf courses are open until the wee hours of the night to appease the outing preferences of all visitors and locals in the Branson area. In the list below are all of the mini golf courses that are open past 8 o'clock so you never, ever have limited options when you're in the mood to putt putt!
Mini-Golf Courses open past 8PM
Greatest Adventures of Mini Golf: 10AM-11PM
Shoot For the Stars:8AM-12AM
Corral Reef Mini Golf: 9AM-9PM
Pirate's Cove: 9AM-11PM
Lost Treasure Golf: 9AM-11PM
Brookside Mini Golf: 9AM-11PM
Dinosaur Canyon:9AM-11PM
Grand Country Fun Spot:9AM-12AM
With three locations and multiple activities, attractions and rides, the Track Family Fun Parks knows how to offer a good time for all ages. All 3 tracks have hours that go later than 9 so you can avoid those nasty sunburns and heatwaves and fully enjoy all the parks have to offer!
Track 3: Go Karts Track, Arcade, Bumper Boats, Batting Cages and Laser Tag.
Open 10AM-11PM every day.
Track 4: Go Karts, Heavy Metal High Rise, Arcade, Ferris Wheel, Bumper Boats and Sky Coaster.
Open 10AM-11PM every day.
Track 5: Go Karts, Bumper Boats, The Lumber Jack wooden track, Arcade, Laser Tag and Route 76 Golf.
Open Saturday 10AM-10PM and Sunday 10AM-5PM.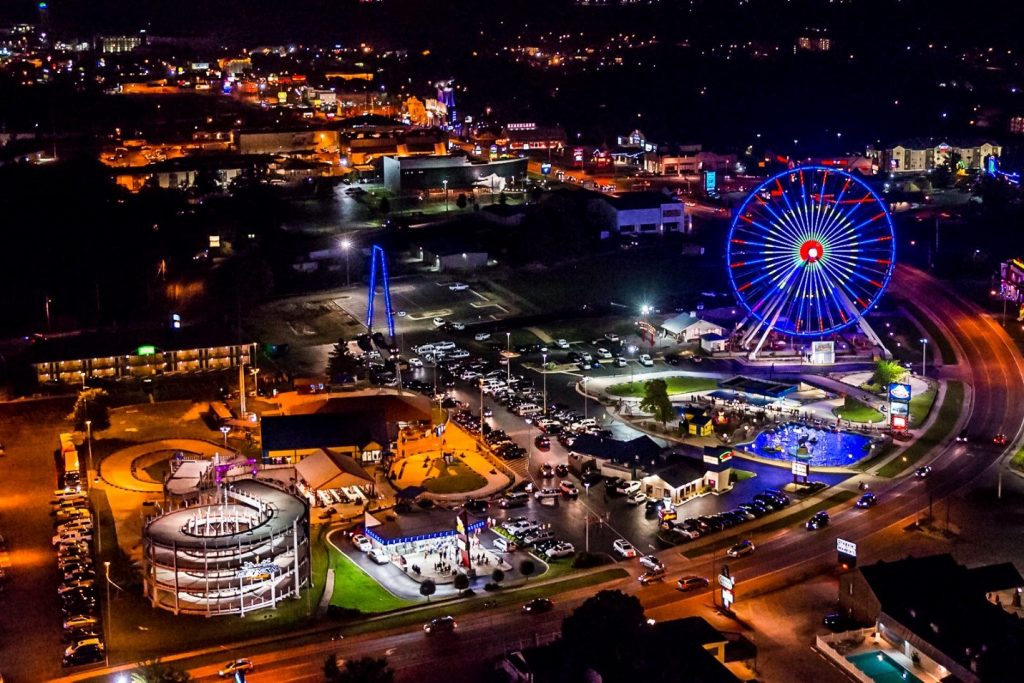 Home to the most beautiful golf courses, the most sought after attractions, and the most delicious restaurants, Top of the Rock offers a splendid place to spend the evening. One can soak up the night walking around the picture-perfect property or going for some delicious dinner at restaurants like The Osage. Sit outside on the patio, watch the sun set over the land and soak in the peace and quiet of the area.
Photo Credit:https://bigcedar.com/wp-content/uploads/2019/03/osage-rotunda-room-dining.jpg
8.Branson Shows
If you are looking for late night entertainment, look no further. Branson does feature a few select late night shows that include music, dancing, comedy and magic.
Grand Country Music Hall: Friday night show at 10:30 PM July-December 2020.
Comedy Hypnosis With Austin Singley: After Dark Show(18+) Currently showing Friday and Saturday night at 10:30 PM.
Photo Credit:https://www.grandcountry.com/branson-country-usa
Though many of the retail shops, restaurants and attractions close early in the evening at the Branson Landing, there are a handful of places that stay open late for the avid night owls out there.
Waxy O'Shea's: Irish Pub open 11AM-1:30 AM daily except on Sunday when they close at 12 AM.
Andy B's Social: Bowling, Food & Fun open 11AM-11PM Friday & Saturday.
Big Whiskey's American Restaurant and Bar: 11AM-11PM
Landshark Bar & Grill: 11AM-11:30PM Friday & Saturday. Closes at 9:30 PM Sunday-Thursday.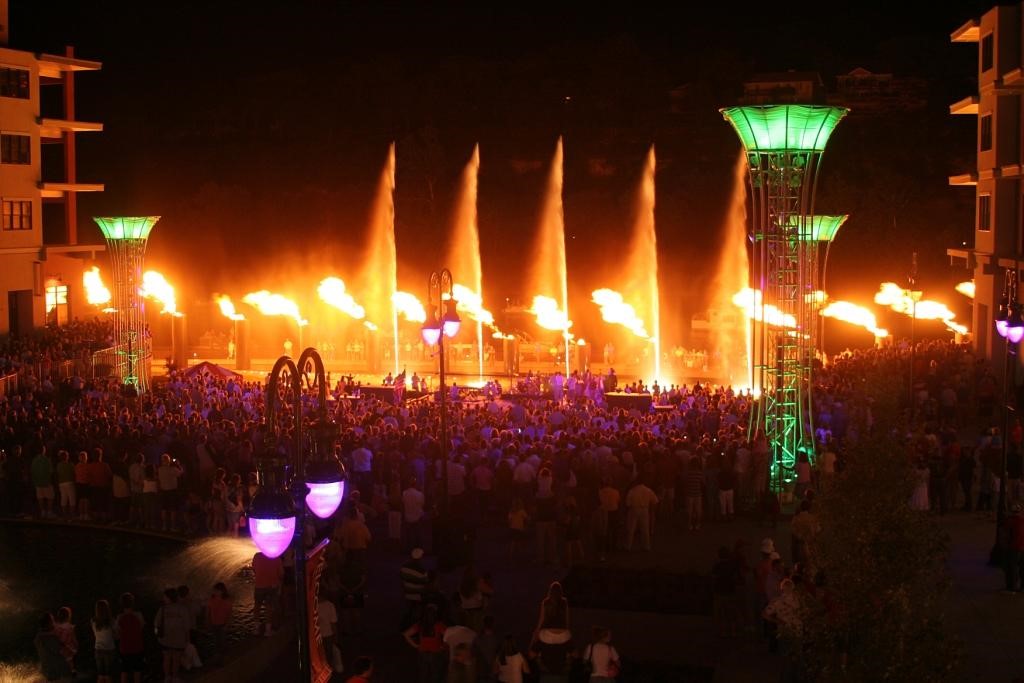 10.Other After Hour Bars & Clubs
If you've had an exhausting day catering to the kiddos or would just like some 'Adult Time', try any of these bars and/or clubs in Branson for good food, good drinks and a good time!
Captain's Quarters Restaurant, Crazy Craig's Cheeky Monkey Bar, Saint City's Sport Bar and Grill, Draft Sports Grill, Scooter's Sports Grill, Outback Pub, Wildwood Bistro, Downing Street Pour House, The Paddlewheel, Guy Fieri's Branson Kitchen and Bar, Lake House Restaurant and Pub, Beverly's Steakhouse and Saloon, Black Oak Grill, Ye Old English Inn, Charlie's Steak, Ribs & Ale, Dude's Daiquiris at the Mellow Mushroom, Garfield's Restaurant & Pub and Parrots Pavilion Tiki Bar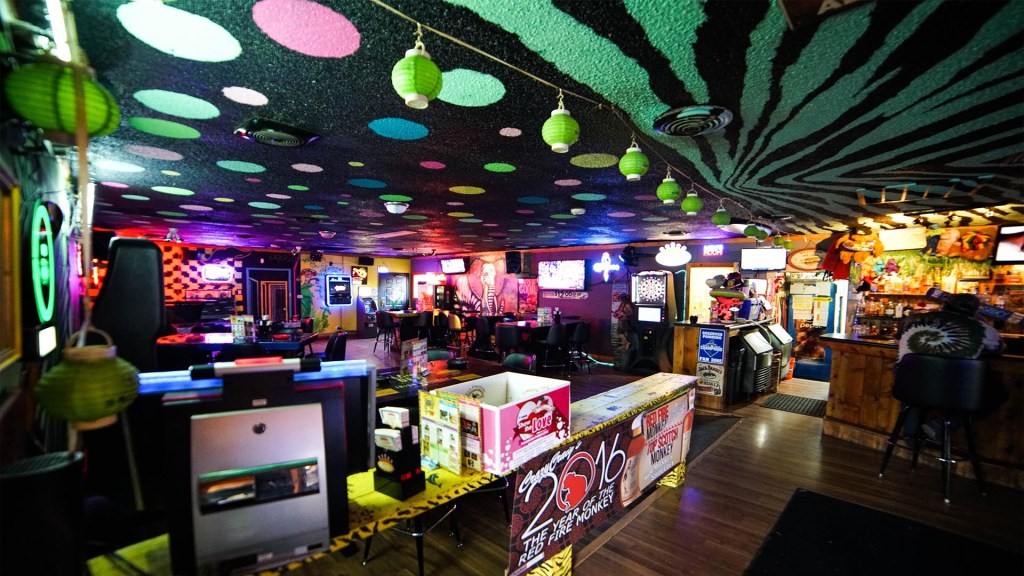 Photo Credit:https://i2.wp.com/www.cheekymonkeybar.com/wp-content/uploads/2016/04/Dance-Floor-Background.jpg?fit=1024%2C576
One of the most popular coffee shops in the area, Vintage Paris offers amazing coffee(of course), beer, wine and bakery goods in a cozy, artsy style setting becoming of a coffee joint. Enjoy their outdoor courtyard with occasional live music or the interior area where you can sit on a coach and fellowship with friends and family. Open until 12AM Friday and Saturday!
Even if you didn't get around to doing everything on the list of things to do in Branson at night, there's always a next time! During all seasons and all times of the day, there is always something going on whether you're searching for shows, attractions, dining and/or night activities!
What did you think of our list? Remember to check out our coupon page to see how you can get easy access to savings from the convenience of your phone https://bransonsaver.com/.