If you have a big day ahead of you or a more leisurely one, a good breakfast is good start regardless! All of your favorite breakfast items like Waffles, Pancakes, Eggs Benedict, French Toast, Omelets and Cinnamon Rolls are just a drive away with options in both local and chain restaurants. For this list, we have focused on the best local, non-chain places to have Breakfast around Branson, MO.
For many of these restaurants, the Branson Saver App offers exclusive deals and coupons for you the consumer to enjoy. See a list of our available coupons here.
Here is a list of the 5 Best Places to Have Breakfast in Branson, MO:
1.Billy Gail's
Close to Silver Dollar City, this homestyle, country themed restaurant offers guests plentiful portions, quality food and a welcoming atmosphere. With pancakes 14 inch diameters, delicious omelets and breakfast specialties, Billy Gail's offers the perfect road stop for all travelers.
Some other menu items: Four Egg Omelets, Breakfast Specialties, Biscuits and Gravy, Corned Beef Hash, French Toast, House Made Cinnamon Roll.
Location: 5291 State Hwy Branson, MO 65616
Hours: Open Monday-Sunday 7 AM- 3 PM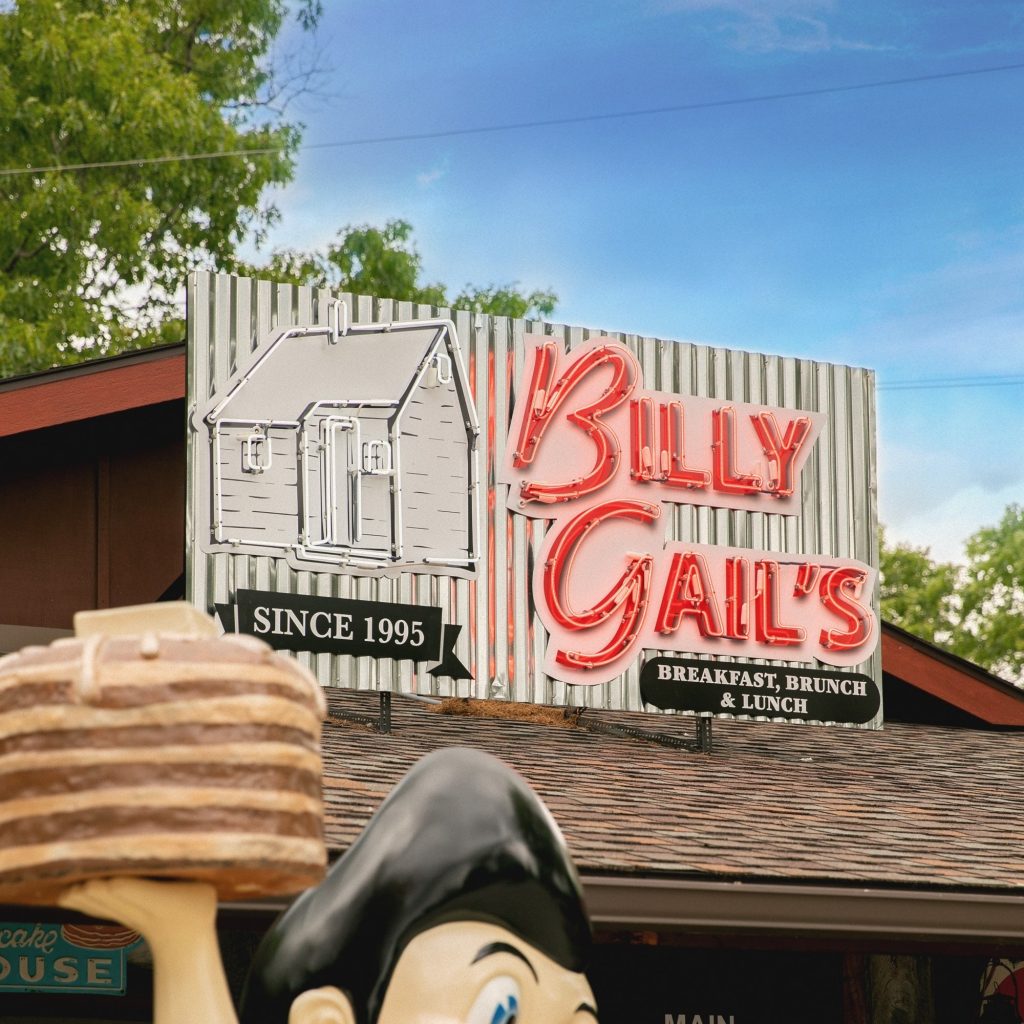 Photo Credit:https://www.facebook.com/BillyGails/photos/a.289617504455992/3001018443315871/
2.Farmhouse Restaurant
Come to one of the landmarks in Historic Downtown Branson during the morning hours for a bite to eat you won't soon forget! Satisfy your cravings for some country cooking sure to warm your belly and fill you up for the day at the Farmhouse Restaurant! This cute restaurant serves breakfast all day and a whole parade of delicious menu items including, but not limited to: Fluffy Pancakes, Omelets, country Potatoes, Bacon, Ham and many other Homestyle Favorites! Come on in and get ready for decent prices, homestyle food, and a cute shop perfect for getting gifts for that special someone.
Location: 119 W Main St, Branson, MO 65616
Hours: Monday-Sunday 7 AM – 8 PM
Click here to access your coupon for the Farmhouse Restaurant!


3.Clockers Café
Located in close vicinity to the Farmhouse Restaurant, Clockers Café is a quaint little restaurant located right next to the Downtown Branson Visitor Center. On the outside window, you'll see a clock and you'll know you're in the right place. Serving breakfast all day, Clockers Café is ready to quench every customers need for a good breakfast item and/or dish with a wide array of menu items. This fan favorite little café has even had visits from some local Branson stars and performers. It's that good!
Some Menu Items Include: Belgian Waffle, Buttermilk Pancakes, Breakfast Croissant, Steak Platter, Eggs Benedict, The Haystack, Biscuits and Gravy, or the delicious Breakfast Skillet consisting of a biscuit, sausage patty, hashbrowns, and an egg all smothered in a sausage and gravy sauce. Yum!
Location: 103 S. Commercial St. Branson, MO 65616
Hours: Monday-Saturday 6 AM – 6 PM | Sunday 6 AM – 3 PM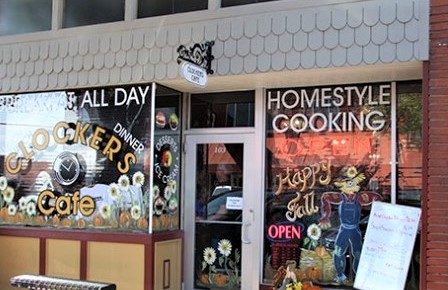 4.Kaffee Haus
Serving one-of-a-kind dishes, Kaffee Haus presents made by scratch food using the finest of ingredients. Locals and visitors are sure to eat well with their Brunch menu items like the Chicken and Waffle, Yogurt Parfait, Bakery Items, Western Omelet, Branson Benedict, and Chef Bills French Quarter Toast. All wrapped up in a welcoming, country-style atmosphere, Kaffee Haus is yet another great restaurant to have breakfast in Branson, MO. 
Location: 1810 W Hwy 76, Branson MO 65616
Hours: Tuesday-Thursday 8 AM- 8PM | Friday & Saturday 8 AM – 10 PM | Sunday 8 AM- 8 PM (Closed Sunday)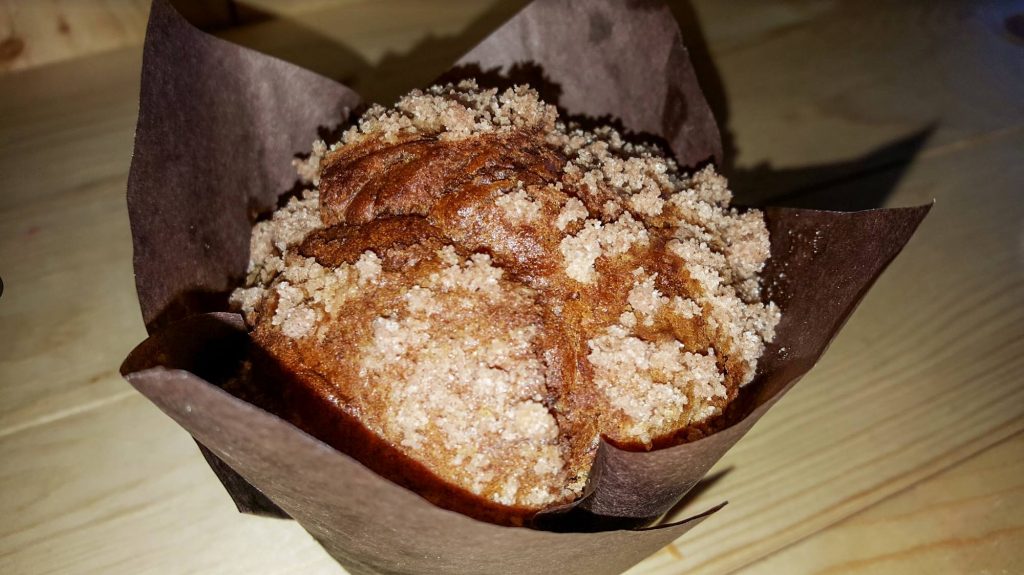 Photo Credit: Kaffee Haus Facebook Page
5.Donnie's Dinner
If you ever find yourself passing through Branson West, stop by the cute little shopping center by King's Saver for some Breakfast. With big windows and diner style seating, Donnie's Diner is a popular stop for locals and travelers alike to grab a quick bite. This dinner offers unbeatable prices, good food and several breakfast favorites. Some of which include the Breakfast on the Run(  sandwich made with scrambled eggs and American cheese), Three Meat Omelet, Specialty Waffles, Omelets, Breakfast Combos and Pancakes with your choice of pecans, chocolate chips, etc. Overall a great local diner to enjoy breakfast!
Hours: Monday-Friday 7 AM – 2 PM | Saturday 7 AM-1PM (closed Sunday)
Location: 11016 E, State Hwy 76, Branson West, MO 65737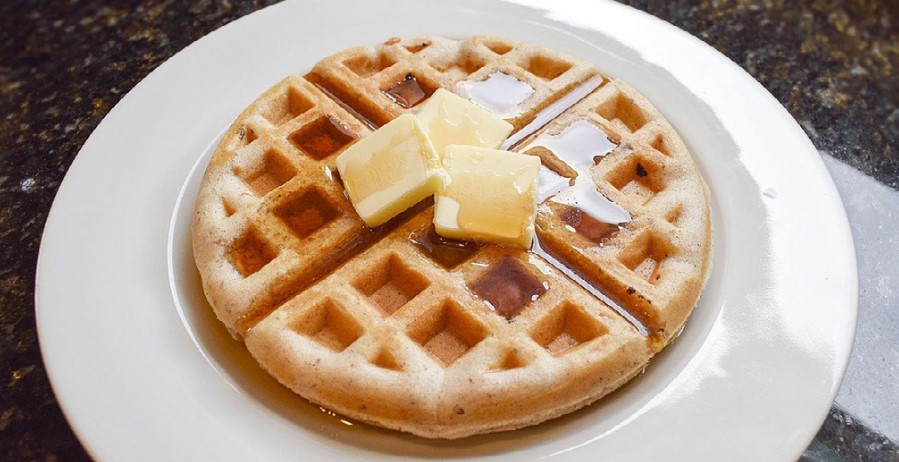 While we are on the topic of breakfast, the Branson Saver App offers a Buy 1 Dozen Donuts Get 1 Dozen Glazed for Only $1.99! Download the app and claim your coupon now! See all of our coupons here.
Clocker's Photo Credit:https://www.explorebranson.com/sites/default/files/styles/profile_page_slide_640x480/public/zzdata-5386_640x480.jpg?itok=5-dAYQt_
Feature Photo by Julian Jagtenberg from Pexels