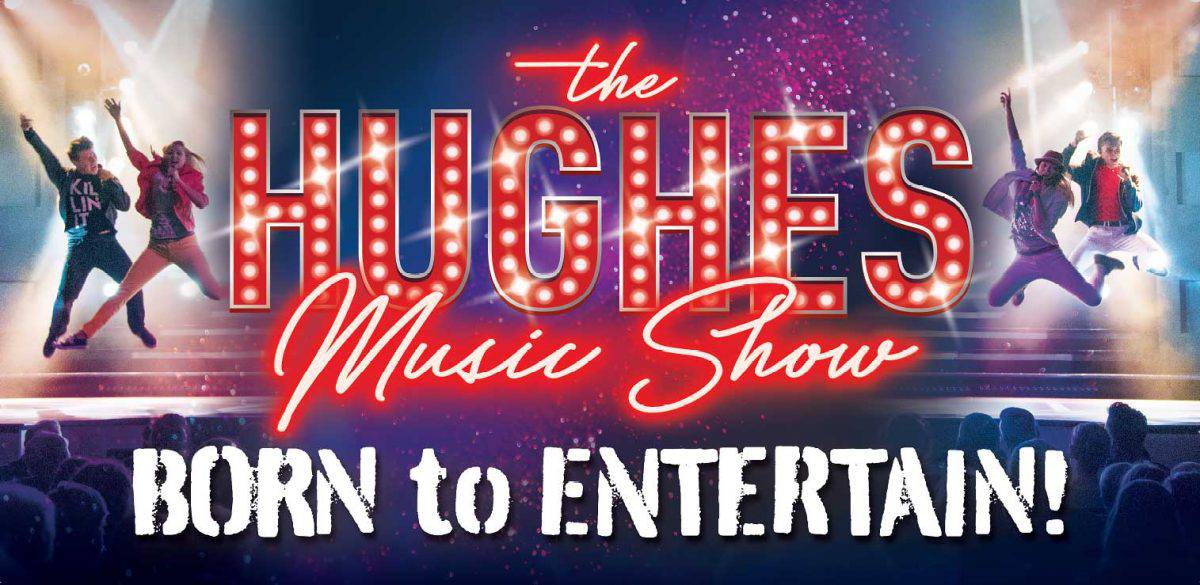 If you're looking for the best Branson Hughes Music Show coupons, you're in the right place! All New for 2018! The Hughes Music Show- Born to Entertain, is the "World's Largest Performing Family", staring a cast of 50 (and growing every year) entertainers, singers, dancers, and musicians! This group of professionals has been performing all over the world for almost 30 years. It, all started with a small family band and has expanded into the biggest family performed shows in the world, with dozens of family in the cast!

Exclusive Branson Saver Hughes Music Show Coupon

The Hughes Brothers have been performing here in Branson for over 10 years and have made this town their home. Mainly starring the brothers' vocal talents and harmonies, some of the top entertainers from the area are also featured to make this show different and creative. You are sure to enjoy the variety of music, offering a range from country to gospel and broadway to rock and roll!
You will love hearing the beautiful singing of the brothers and watching the ladies of the family dance across the stage in their amazing costumes. The children are sure to bring a smile to your face and a wonderful feeling in your hearts as they join the show, all backed by a live band! With all that talent and over 150 costume changes through the show, The Hughes Music Show-Born to Entertain!, is the show to see!
*SPECIAL SHOWS IN BLUE ON SCHEDULE ARE AS FOLLOWS*
March 18th,2018 at 8 PM St. Patrick's Day Celebration!
May 12th, 2018 at 8 PM Celebrate Mom's – All Moms Are Free Day! Dinner available 6:30 PM and Moms meal is 1/2 price!
June 16th, 2018 at 8 PM Celebrate Dad's – All Dads Are Free Day! Dinner available at 6:30 PM and Dads meal is 1/2 price!
July 4th, 2018 at 12 PM Celebrate Independence Day – Happy 4th of July! Picnic and Carnival start at Noon and show starts at 3 PM so you will have time to make it to a Fireworks display! 🙂
September 3rd, 2018 at 8 PM Celebrate the American Worker – Labor Day Show! Show your current paycheck stub and get a 1/2 price show ticket and if you Dine with them before the show they will pay your tip!
October 27th, 2018 at 8 PM Howling Fun – Halloween show!  Wear a costume and get $5.00 off your ticket and a bag of treats! (No masks please) Dinner available before show! It's ghostly good!
November 22nd, 2018 at 10 AM We're Thankful For You – Thanksgiving Show! Start your Thanksgiving Day with some thankful family fun!
December 31st, 2018 at 9 PM From Christmas to New Year's Eve- Celebrate Christmas and Ring in 2019… They will have all kinds of cool light-ups, noisemakers, a balloon drop, lots of fun and laughs, and after Midnight, dance with the cast! Celebrate responsibly!
Website : https://www.hughes-brothers.com/
Hours : See Schedule below: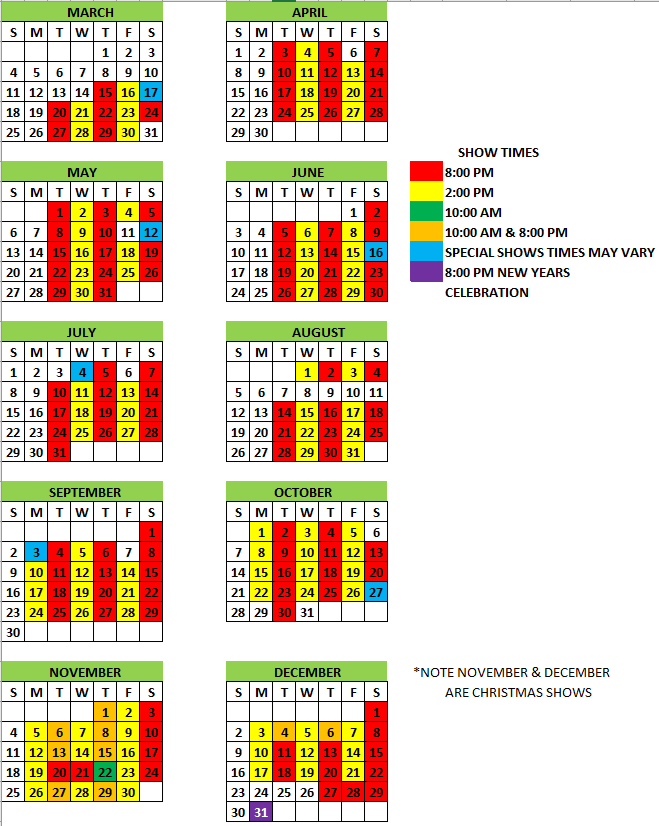 Directions :