If you're looking for the best Branson SIX coupons, you're in the right place! Awarded 417 Magazine's Best Branson Stage Show and Best Original Band, SIX is the show to see while in Branson!  SIX is a contemporary vocal band that features six true brothers, Barry, Kevin, Lynn, Jak, Owen and Curtis, who take musical entertainment to a whole new level. Critically acclaimed and dubbed as "an orchestra of human voices" and "masters of showmanship", these amazing multi-talented brothers sound like a band using only their mouths. These pioneers of acappella are six of ten Knudsen brothers who have been singing contemporary acappella with incredible beatbox vocals and harmonizing for over 40 years in total. 

Exclusive Branson Saver SIX Coupon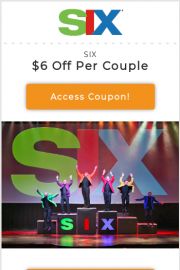 The brothers television debut in 1978 was on The Osmond Brothers Special where they performed alongside singing legends Crystal Gayle, Andy Gibb, and Bob Hope. The boys turned their passion into a full-time career in 1995, going from singing on the streets of Los Angeles to headlining sold-out venues. SIX has since shared the stage with such famous names as Trisha Yearwood, Diana Ross, the Beach Boys, Olivia Newton John, Rod Stewart and The Doobie Brothers. Bringing lively choreography and dysfunctional family comedy into the show as only brothers can do, they perform everything from contemporary pop to R&B to classic rock 'n' roll to doo-wop to gospel to patriotic.
SIX not only continues to push the envelope, always adding new material that's fresh, unique and unexpected, but also continues to amaze audiences with their ability to consistently deliver powerhouse vocals, incredible harmonies, and an unparalleled high-end, professional production.  Once you experience it, you will understand the power of SIX!
Website : http://www.thesixshow.com/
Hours : 2 & 8 PM Monday – Friday (See schedule for details)
Directions :