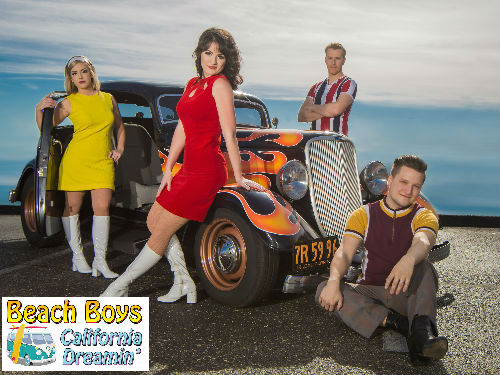 If you're looking for the best Beach Boys California Dreamin' coupons, you're in the right place! A tribute to the surf, songs, and culture from the 1960s with a laid-back vibe that will give you one of the most entertaining live shows that you can see anywhere! Beach Boys California Dreamin' is an action-packed show filled some of the best LIVE entertainment to be seen on any stage in Branson, Missouri! Soak up the sun and the people, music, songs, and dance from California during one of the most interesting and captivating decades in recent history! Re-experience a time that would influence generations of fans, musicians, and personalities for years to come. Now, you have the opportunity to be taken back in time (or experience a sampling of what it was like) in a show that is fun and entertaining for audiences of all ages!

Exclusive Branson Saver Beach Boys California Dreamin' Coupon

One of the most popular and influential decades for music, the sixties were one of cultural change and self-reflection, one that spawned an entirely new genre of music and countless bands, artists, and groups. Just a few of the songs and musicians that you will hear onstage include: The Mamas & Papas, Joni Mitchell, Simon & Garfunkel, 5th Dimnesion, & Burt Bacharach, as just a handful of those that you will hear recreated in each show. Of course the show wouldn't live up to its name if it didn't feature some of the music and songs of The Beach Boys!
Hear some of the group's biggest hits, including:
"Surfin' USA"
"Little Deuce Coupe"
"California Girls"
"I Get Around"
"Help Me Rhonda"
"God Only Knows"
"Fun, Fun, Fun"…and more!
The talented group of men and women will sing, dance, and have you laughing with their beautiful harmonies, charming personalities, and remarkable entertaining talents!
Website : http://californiadreaminshow.com/
Hours : Tuesday-Thursday & Saturdays (See schedule for details)
Directions :