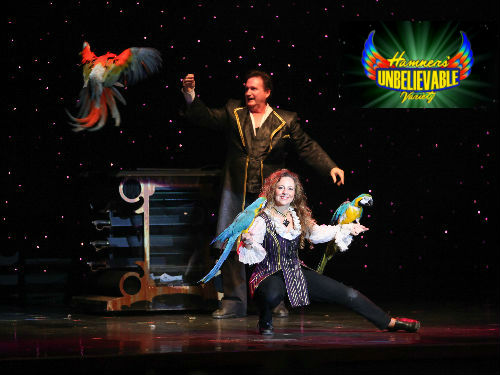 If you're looking for the best Hamners Unbelievable Variety Show coupons, you're in the right place! If you like shows like "America's Got Talent" or remember the "Ed Sullivan Show" – then you are going to LOVE this variety show! Delivering one of the largest showcases of talent ever brought together on one stage, it's a show that's fun for all ages! 
Master Magicians and Illusionists – Dave & Denise Hamner! Well-known in magic circles throughout the world, they have appeared in or headlined major shows and productions around the globe. They have been recognized by their peers as being some of the best magicians in the world and received some of the most prestigious awards within the magic community (including the "Bronze Lion Head Award" personally bestowed upon them by Siegfried & Roy). Their one-of-a-kind act has been seen by millions and incorporates beautiful, exotic birds and other large-scale illusions!

Exclusive Branson Saver Hamners Unbelievable Variety Show Coupon

Singing Impressionist – Jeff Brandt! From Branson to Las Vegas, Jeff has toured the country and performed in multiple shows that range from: appearances with Wayne Newton for more than a dozen years, spots on the "Tonight Show," multiple movie appearances ("Smoking Aces" and "Vegas Vacation," 8 USO tours, and even had the distinction of bringing his singing impressions to Washington DC and The White House. His long-running feature in Wayne Newton's shows in both Branson and Las Vegas earned him thousands of fans from around the world!
Singer Tamra Tinoco! She has performed in nearly every state in the country and appeared alongside some of our generation's most-loved and popular artists from country superstar Vince Gill, singer Lee Greenwood, to comedian and musician Jim Stafford, personality John Davidson, and Ferlin Husky. Tamra has long-time been a star in the popular Branson show "Magnificent 7" and has been one of the main stars and driving forces behinds its popularity.
Aerial Performer Mariya Serykh! This amazing performer has taken her remarkable act to countries and audiences the world over. Mariya is accomplished in many styles of dance from Ballet to Jazz and has amassed an enviable list of awards that include winning both National and World Champion titles in dance. You may recognize her from her long-running appearance on the Showboat Branson Belle, or as the winner of the National and World Champion in dance!
Cyr Wheel – Anthony Soumiatin! Anthony has been featured in Ripley's Believe it or Not!, is the USA National Unicycle Champion, and a featured star of many Branson shows throughout the years (including Loving Every Minute, Cirque Montage, and the Moscow Circus). He brings his incredible act to the Branson stage for a performance you won't ever forget!
Comedian & Dancer – Ken Brown! "Downtown Kenny Brown" brings his amazing dance moves and hilarious comedy to the show! You may recognize him as a featured performer from Jimmy Osmond's American Jukebox!
There's something for everyone in this LIVE stage production that features world-class magic, incredible singing, hilarious comedy, unbelievable impressions, and feats of acrobatics that you must see to believe! 
Website : http://www.hamnersunbelievable.com/
Hours : 3PM & 8PM shows (see schedule)
Directions :