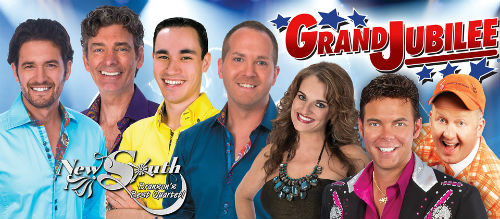 If you're looking for the best Grand Jubilee coupons, you're in the right place! Grand Jubilee brings you some of the best entertainment you will find in the area! See a true variety show in town! Combining the best in classic and modern country songs, Top 40 music from the 70s through the 90s, one of the funniest comedians in town, as well as dancing and singing from some unbelievably skilled performers, and a multi-talented cast- this show brings together a high-energy cast to put on one of the best productions in town. Starring Vocal Group New South! This dynamic vocal group New South will amaze you with their harmonies as they deliver some of the best singing to be found in the area.

Exclusive Branson Saver Grand Jubilee Coupon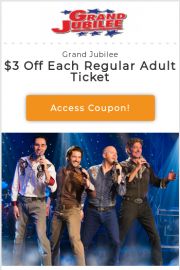 Country fans will love their renditions of some of your favorite hits – where you will hear music from your favorite artists from timeless classics through contemporary hits. If you love gospel, then you will love this quartet as they perform some of the most inspirational and spiritual songs that many will recognize. Hold onto your seats for a wild and funny ride as one of the area's most popular and well-like comedians takes the stage to share stories and insight that will have the whole audience rolling with laughter. Recognized as "Comedian of the Year" in Branson – Jim Dandy is sure to leave a smile on your face as his ridiculous tales and quirky humor are shared with everyone.
Website : http://www.grandcountry.com/grand-jubilee
Hours : Monday – Friday 7:30 PM as scheduled. (schedule subject to change without notice)
Directions :