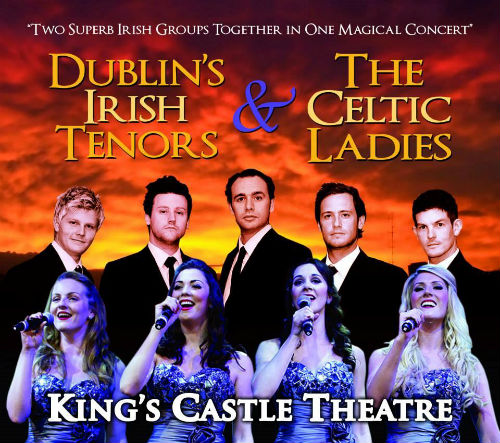 If you're looking for the best Dublin's Irish Tenors & The Celtic Ladies coupons, you're in the right place! Dublin's Irish Tenors & The Celtic Ladies bring a whole new level of production to the Branson live entertainment lineup! This show will have you singing along to some of the classic irish songs and enjoying every minute that goes by! The crew has been hand-selected for their remarkable talents and stage presence to provide an authentic and entertaining show! While the main focus of the show is to entertain with songs and music from Ireland, it also features a various assortment of styles from jazz to pop and rock 'n roll! 

Exclusive Branson Saver Dublin's Irish Tenors & The Celtic Ladies Coupon

These guys bring their Celtic music and songs to the Midwest in one of the area's most-loved, live shows! Performing one of the most musically diverse acts that you will see on any stage, the Irish tenors will entertain and delight you with music that spans genres from around the world and eras throughout history! Just a few of the songs you will hear each show include: "Danny Boy," "Hey Jude," "Rolling in the Deep," and Nessun Dorm – all of which will leave you wanting more! While your journey will take you on an exploration of some of the most famous modern and traditional Irish tunes throughout history, the show also features some of the biggest hits from rock 'n roll to opera and classical music – it highlights some of the best songs to have come out over the last ten decades! Much more than just singing, the show infuses singing, dancing, costumes, and staging to create a production that is second-to-none! The 5 men will display their vocal abilities that have gained them worldwide recognition as one of the finest group of Irish Tenors in the world, while the 4 Celtic ladies will serenade you with their beautiful harmonies.
It's a musical journey that has audiences of all ages exclaiming that this is one of the top choices in town!
Website : http://www.kingscastletheatre.com/tenorscelticladies/
Hours : See Schedule
Directions :