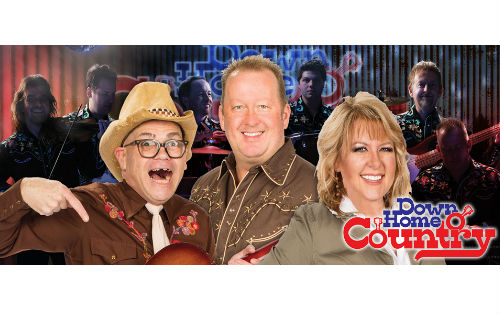 If you're looking for the best Down Home Country coupons, you're in the right place! If you're looking for a show that plays all of your favorite classic country songs, then Down Home Country is the one you've been searching for!  Sharing some of the most famous country hits of all time, you will hear music from some of your favorite artists including: George Jones, Merle Haggard, Hank Williams, and many more during the course of your morning's entertainment.  With many different styles of music from Gospel to Country, Western, and maybe even some Swing – it's a traditional show that will have you reminiscing or singing along. While the setlist includes a handful of some of the most beloved songs that topped the charts, the band will even take a few requests and entertain you with your favorite songs.
Joining the cast of the show is one of Branson's most beloved, funny, and popular entertainers – Branson's own Jarrett Dougherty! Renown throughout the Midwest as one of the most hilarious entertainers to perform on stage, Jarrett brings his characters, stories, and tales to life in a performance that will have the audience rolling with laughter in the aisles!
The former star of the Pierce Arrow show and sidekick to country star Billy Dean, he brings his one-of-a-kind act to the Grand Country stage!

Exclusive Branson Saver Down Home Country Coupon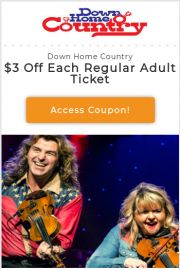 You will love the variety of dynamic singing, side-splitting comedy, powerful gospel, barn-burning bluegrass, and down-home fun.  If you don't hear your favorite, the gang will even take a few requests. Made up of some of the best musicians and instrumentalists in town (including Melody Hart the "Fiddle Player of the Year"), the live band will energize and invigorate you for a fun-filled day in Branson.
Located inside the Grand Country Music Hall which contains the Grand Country Buffet, where you can grab a bite to eat before or after showtime.
Website : http://www.grandcountry.com/down-home-country
Hours : Monday-Friday 10AM Spring and Fall Seasons
Directions :