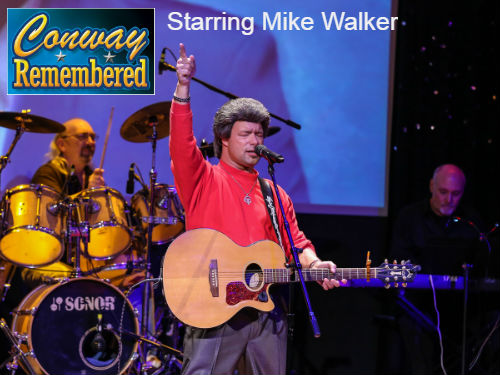 If you're looking for the best Conway Remembered coupons, you're in the right place! In one of the most incredible musical tributes in the world, Mike Walker brings the music, stories, songs, and likeness of Conway Twitty to life LIVE on stage in Branson, Missouri! Perfecting the sound, look, and mannerisms of the late, great country music icon – Walker delivers a performance that must be seen to be believed!  After thousands of hours of studying and analyzing Twitty's personality and character, Mike Walker perfectly recreates the country music artist's distinct look and signature sound to deliver an incredible show that pays tribute to the legendary Conway Twitty. It's one of the world's most unbelievable tribute acts, and has left audiences around the world in awe and disbelief. He so perfectly brings Conway's music and look to life that you might not believe what you're seeing! 
Throughout the course of his life, Conway Twitty amassed an incredible string of hit singles and albums that topped the charts. With an "official" 41 Number One songs to his credit (and an additional 14 that are unofficially tallied) – he remains one of country music's most popular and loved performers of all time.

Exclusive Branson Saver Conway Remembered Coupon

Twitty's songs have become classics and mainstays of the country genre – writing, recording, and performing some of the most famous country songs of all time!
The show features some of his most popular hits, including:
"You've Never Been This Far Before"
"Hello Darlin"
"Crazy in Love"
"After the Fire is Gone" (a duet with Loretta Lynn)…and dozens more!
Remaining popular throughout his life, Conway's music continues to resonate and live on in today's generation of fans – keeping his legacy and work alive for millions around the world.
Recognized as one of the world's premier impressionists and one of the leading tribute artists in the country, Walker brings Conway Twitty's music and songs to life! Because he so closely recreates the late, great country star – you may have a hard time believing that you're not actually seeing the legendary icon on the stage in front of you! Accompanied by some of the most phenomenal vocalists you will ever see and backed by a LIVE band, it's a stage production that any country music fan won't want to miss!
Website : https://www.mikewalkermth.com/
Hours : Tuesday, Wednesday & Friday 2PM shows (see schedule for full details)
Directions :