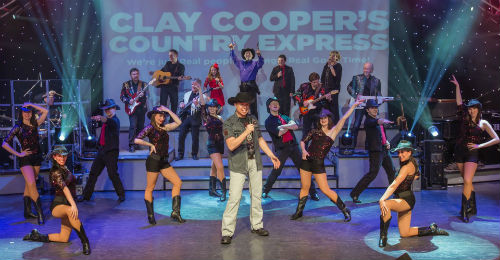 If you're looking for the best Clay Coopers Country Express coupons, you're in the right place! Awarded 2015 Entertainer of the Year by the Terry Awards, Clay Cooper has proven to be one INCREDIBLE entertainer. As one of the most popular country variety shows in Branson, Missouri – Clay Cooper's Country Express delivers a high-energy, action-filled, two hours of entertainment that everyone in the family will enjoy! Staying true to his roots, Clay has been a Branson favorite for more than three decades now. He has performed with some of the biggest productions to come through the area and has been a crowd favorite in every show that he has had the chance to be a part of. Whether he's making the audience laugh or enthralling viewers with his amazing voice, his talent and extremely likeable personality is unmatched!
There are few productions that offer the variety and diverse talent that takes to the stage with each show. While Clay's music and singing take the spotlight, he is joined by more than a dozen phenomenally-talented entertainers who help share some of the magic you will witness over the course of the show.


Exclusive Branson Saver Clay Coopers Country Express Coupon

Music fans will find this to be one of the best shows in town as it features samples and highlights from many different styles of music including classic & modern country hits, inspirational gospel songs, and maybe some rock 'n roll weaved into various segments. Additionally, his tribute to the Veterans who served our country provides a heartfelt gesture from one of the most endearing performers you have ever seen!  A cast of singers and dancers help provide a backdrop throughout the show, highlighting some of the amazing local talent from the area. In addition to the singers and dancers, trick rope virtuoso and expert Johnny Lonestar will amaze audiences with his rope tricks while comedian Matt Gumm will have everyone laughing out loud! Whether you're traveling with friends or family, there is no denying the appeal of this show – a perfect match of many different types of entertainment. A live production that has been refined and tuned to perfection, it's something that will leave you smiling and with lasting memories long after you've returned back home.
Website : http://claycoopertheatre.com/
Hours : See Schedule
Directions :