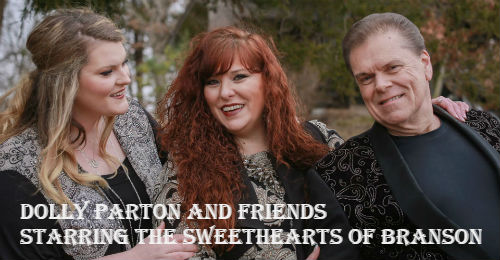 If you're looking for the best Branson Dolly Parton and Friends coupons, you're in the right place! Hear the music of one of country music's most influential and popular artists of all time… Dolly Parton! This musical tribute shares the songs, stories, music, and memories in one of the most captivating country music shows you may ever see! Starring "The Sweethearts of Branson" Denny Yeary & Shelia Renee! Longtime Branson fan favorites, the Denny Yeary and his wife Shelia Renee will join each other on stage for an unforgettable performance! Nicknamed "The Sweethearts of Branson," they have been performing alongside some of the biggest names in music and some of Branson's most popular entertainers!
Denny's signature bass singing and Shelia's beautiful voice create an incredible vocal combination that presents the Dolly Parton's songs in a one-of-a-kind performance! Joined by their daughter McKayla, it's a family act that showcases and amazing display of talent!

Exclusive Branson Saver Dolly Parton and Friends Coupon

Hear some of Dolly's most popular songs and share in the laughter, stories, and memories of her life as Denny and Shelia take you on a musical voyage through one of country music's biggest stars! You'll hear some of Parton's most popular songs, brought to life in this unforgettable and entertaining production! Throughout the show you will also hear music from some of country music's leading female groups and singers, including The Judds, Dolly Parton, and more! This country show is sure to be one of the highlights of your trip! Hear two of Branson's most beloved and enduring entertainers as they are joined onstage by their daughter for a LIVE music production that must be seen to be appreciated!
Website : http://www.sweetheartsofbranson.com/
Hours : See Schedule
Directions :