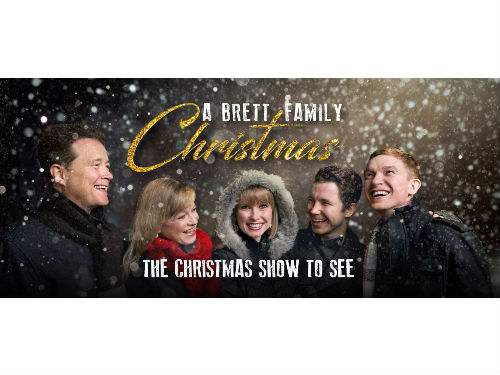 If you're looking for the best Branson Bretts coupons, you're in the right place! The Brett Family has built a tremendous following with their family-friendly live shows that have been performed in front of thousands of people around the world and at the various venues in which they have performed in the Branson area. Incorporating singing, dancing, comedy, and live music into their act – they appeal to audiences of all types and ages. Their shows are based on patriotism, family values, and wholesome entertainment that people of all generations will enjoy. Continuously refining and honing their act over the years, The Bretts have put together one of the best morning shows that you will find in the area. This 5-person family group is headed by Tom & Andrea and their three children: Briahna, Brydon, and Garon – who each share their unique and special talents, whether it's singing, dancing, playing an instrument, or making you laugh with their comedy bits.


Exclusive Branson Saver Bretts Coupon

The family can trace some of their performing roots back to the Branson area to when they made some of their first appearances aboard the Showboat Branson Belle as part of their special acts that have been brought on to entertain guests on the dinner show boat. Evolving and growing their fan base, they steadily built a loyal and devoted following (which helped persuade the group to branch out with their very own show). While they have firmly established themselves in town, they have put their show on in various theatres and concert halls around the world – where they continue to appear in more than 50 special shows each year outside of Branson. The Bretts have been welcomed as guests on many different shows and productions which you may have seen and include: multiple appearances (3 times) with the Mormon Tabernacle Choir; various regional TV shows throughout the country (including PBS); guest stars on RFD-TV and the Jim Bakker Show, and had the distinguished privilege of joining the stage with Tony Orlando for two of his world-famous Veterans' specials in addition to sharing the spotlight with stars from Larry the Cable Guy to Lee Greenwood. The show highlights some of your favorite music from various genres from Broadway tunes to pop and R&B – there are even acapella numbers and songs from some of the most popular musical decades. Whether Tom & Andrea are sharing a moving ballad or duet with the audience, or Brydon and Garon are performing one of today's hits – there's sure to be something you will love. Catch this amazingly talented and versatile family in one of the area's nicest performance venues at Dick Clark's American Bandstand Theatre as the Brett Family delivers an action-packed and high-energy morning show that will kick-start your day!
Website : http://www.thebrettsshow.com/
Hours : November 1st – December 15th See Schedule
Directions :