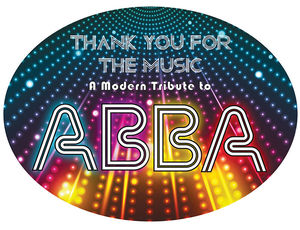 If you're looking for the best Branson ABBA Tribute coupons, you're in the right place! Thank You for the Music a modern Tribute to ABBA is an exciting and dynamic tribute to the Swedish pop super-group ABBA. Powerful harmonies, high-energy dance, big personalities, stunning lighting and video, and the unforgettable hits of ABBA make this contemporary musical tribute one not to be missed. Dancing Queen, Waterloo, Take a Chance on Me, Fernando and Mamma Mia are only the beginning of this nostalgic musical journey. Audiences will delight in exciting modern re-interpretations of ABBA classics, as well as a wide array of musical arrangements that pay tribute to ABBA's original sound. The cast leads the audience on a journey of ABBA history mixed with a bit of humor. All of this combines with 4 part harmonies and electrifying vocals to create an absolutely unforgettable entertainment experience.

Exclusive Branson Saver ABBA Tribute Coupon

Join them as they turn back time, and re-live the moments of the past…moments when you heard each and every one of ABBA's truly timeless hits. Thoroughly entertaining for adults and kids alike, ABBA Tribute: Thank You For The Music will make you fall in love with ABBA all over again!
Website : http://tyftm.com/
Hours : Tuesday-Thursday & Saturday Shows (see schedule for details)
Directions :