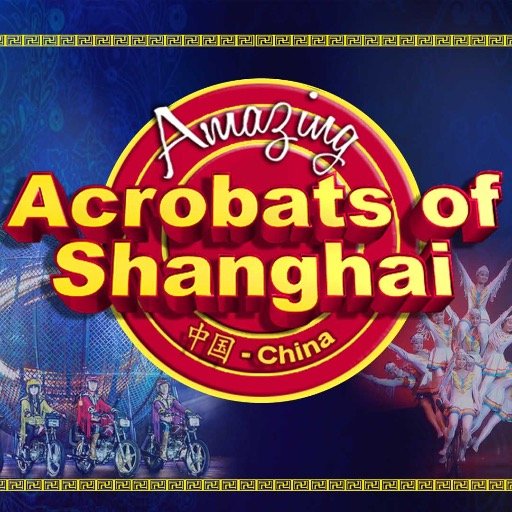 If you're looking for the best Amazing Acrobats of Shanghai coupons, you're in the right place! AMAZING Acrobats of Shanghai takes audiences on an enchanting journey through the Orient with beautiful costumes, scenery, and the unbelievable art of acrobatics at the Grand Shanghai Theatre. Each performer brings to the stage their own unique training and talent; from chair balancing to foot juggling, aerial acrobatics to mask changing. All ages will be delighted by the breathtaking performances, edge of your seat thrills, and lighthearted laughter. AMAZING Acrobats of Shanghai is a treat for both the mind and soul. The excitement of Shanghai comes to life before your very eyes in this astonishing and AMAZING Branson show.

Exclusive Branson Saver Amazing Acrobats of Shanghai Coupon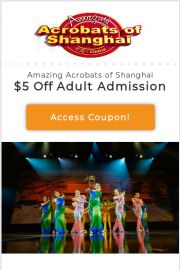 You'll see acrobatic feats so phenomenal; you won't believe your eyes! This show assembles a troupe of China's finest and most elegant athletes, trained to perform acrobatic stunts that require an amazing array of skills; strength, energy, endurance, grace, and flexibility, as well as the reflexes of a boxer and the ability to move like a dancer. And everything around these incredible performers helps to highlight their remarkable talent; the stunning costumes, the beautiful backdrops, and even the entire theater, custom-designed for the acrobats, from the stage to the sound to the lighting, it provides the perfect showcase. The striking colors, the exotic glamour, and the unbelievable skill of each spellbinding feat make the "Amazing Acrobats of Shanghai" an ideal, family-friendly show! And, to keep it fresh and new, performers and acrobatic stunts can change from year to year.
Website : http://www.amazingacrobats.com/
Hours : See schedule
Directions :