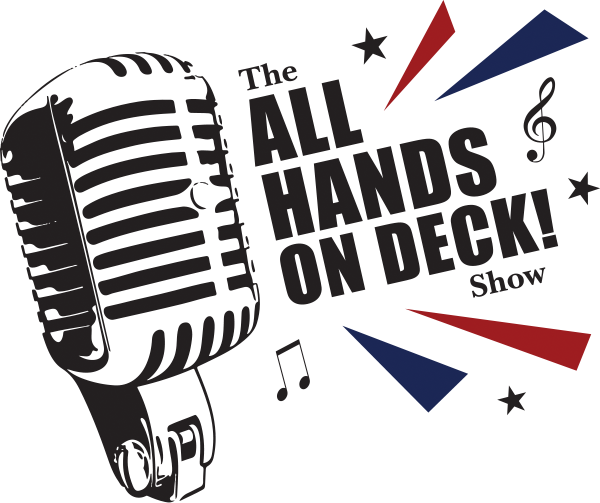 If you're looking for the best All Hands On Deck coupons, you're in the right place! The ALL HANDS ON DECK! Show was born of a heart filled with gratitude and patriotism. Creator and star Jody Madaras wanted to write a show that would say "Thank you" to the greatest generation – the men and women who served our country during WWII and The Korean Conflict — and also remind Americans of a time when our country was truly united.  Madaras said, "This new 1940's show is very special to me — I spent nearly four years writing it." The Ohio farm boy knew he wanted to say something important. "We are reminded everyday that our country has challenges. I wanted to write about patriotic unity, what's right about our country, and thank our veterans in a musical way. I know how much these songs mean to them. I wanted audiences to leave feeling a little better and happier about our country." 
AMERICA'S #1 PATRIOTIC SHOW is now at the Andy Williams Performing Arts Center & Theatre! Now in its 6th year of touring nationally, The ALL HANDS ON DECK! Show is an All-Singing, All-Dancing, All-American 1942 Roadshow & Radio Broadcast reproduction filled with the songs, dances and laughs that America has loved for 70 years!

Exclusive Branson Saver All Hands On Deck Coupon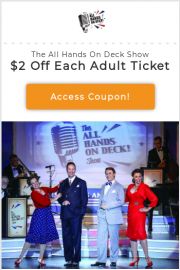 Featuring Broadway Veteran Jody Madaras, four sparkling New York voices (Valerie Hill, Kelly Murphey, Justine Long, and Jonathan David Steffins), and the rich sounds of the LIVE 9-piece Hollywood Victory Caravan Orchestra, classic commercials, tight harmonies, impromptu skits, and 42 of the greatest American songs ever written, The ALL HANDS ON DECK! Show offers a musical message for all Americans with a full-circle patriotic salute celebrating the American way of life; reminding us of a time when our country was fully united. It's a perfect show to see while on vacation in Branson!
Website : https://allhandsondeckshow.com/
Hours : See Schedule
Directions :